About Wind Hazard Damage Assessment

Wind Hazard Damage Assessment is meant to serve as a resource for students engaging in forensic engineering and wind damage surveys. Our goal is to be able to create a network of damage assessment teams equipped to be immediately mobilized in the event of a hurricane or tornado.
Wind Hazard Damage Assessment was launched November 2012 by Dr. David O. Prevatt's team of Masters, Ph.D, and undergraduate researchers with the purpose of creating a means of communication for wind hazard damage assessment groups.
Alyssa C Egnew:
Alyssa is currently pursuing a Bachelor of Science in civil engineering. In the summer of 2013, with the funding of the University Scholars Program, she joined Dr. Prevatt's Wind Hazard Damage Assessment Group. Alyssa's research focuses on investigating failure mechanisms within residential structures using storm data from the 2011 Joplin, MO and Tuscaloosa, AL tornadoes. After completing her education, Alyssa intends to move on to participating in Christian technical missions in Latin America involving infrastructure projects geared towards producing sustainable development solutions.
Alyssa enjoys scuba diving, tennis, reading, and time at the beach with friends.
Jeandona Doreste:
Jeandona Doreste is currently pursuing his Bachelor of Science in Civil Engineering at the University of Florida. In the summer of 2012, he joined Dr. Prevatt's Wind Hazard Assessment Group as an undergraduate researcher in hopes of developing a training program for a Damage Assessment Group on Campus. His focus is primarily to help recruit students who will receive training in forensic engineering practices, participate in documentation concerning wind damage assessments, manipulate software for rapid upload and analysis of findings, and eventually enter into the University of Florida's Civil and Coastal Engineering's masters program. Jeandona currently manages Davidoprevatt.com, Dr. Prevatt's website and blog.
Jeandona enjoys spending time with family, drawing, studying logic and Christian doctrine and theology, and browsing how-to pages of the internet.
Austin Thompson received his Bachelor of Science in Civil Engineering in the spring of 2013 from the University of Florida. While pursuing his undergraduate degree, he was an involved member of an Engineers Without Borders international project team that worked to provide a sustainable water source to a community in Bolivia. He has also worked with other humanitarian engineering organizations such as Engineering Ministries International (EMI) to help provide shelter to a growing orphanage in India. He joined Dr. Prevatt's wind research group, following graduation, with a great desire to learn what it takes to reduce the loss of lives and property resulting from extreme wind events on a global scale.
During his free time, he enjoys hiking, rock climbing, and playing soccer.
Dhruv Desai:
Dhruv Desai received his Bachelor in Civil Engineering in the spring of 2012 from Maharaja Sayajirao University of Baroda, India. Dhruv worked for L&T-Sargent and Lundy Ltd. as a Power Plant structural design engineer for one year after his graduation. He joined the University of Florida structural engineering Master's program in Fall 2013 and subsequently joined Dr. Prevatt's wind research group. His current research focuses on wind resistance of air permeable discontinuous metal roofing systems.
Dhruv enjoys his research work and is also involved deeply into sports and management. He was a national athlete in India with his primary sport being speed skating. Dhruv has also been at various leadership positions at school level and international student organizations. He loves interacting with people and going for a running spree.
David Roueche:
David Roueche began his undergraduate degree studying Engineering Physics at Jacksonville University. While there, David involved himself in environmental science research at the Millar Wilson Laboratory of Environmental Science focusing on water pollutants in Florida's longest river, the St. John's River. He later completed his Bachelor of Science in Civil Engineering after transferring to the University of Florida. Right away, he had the opportunity to join Dr. Prevatt's research team and has been involved in a number of projects ever since, mostly focused on improving the performance of residential homes in extreme wind events. After graduating, he joined Dr. Prevatt in an expedition to survey the damage done to areas of Tuscaloosa, Alabama, and Joplin, Missouri after the 2011 tornado season. David returned with a desire to pursue the mitigation of the losses to property and lives due to tornadoes and other wind related catastrophes. Currently, David is pursuing his Ph.D in this very subject.
Outside of school, David enjoys spending time with his wife, being involved in his church, playing basketball, and working out.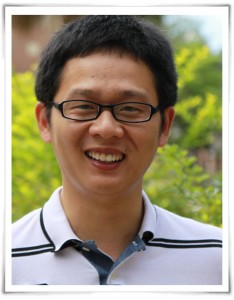 Xinlai Peng received his bachelor's degree in Civil Engineering from Beijing Jiaotong University (BJTU), Beijing, China in July 2007. After graduating, he joined the Department of Bridge Engineering at Tongji University to pursue his master's degree with Dr. Ming Gu. His master thesis investigated the aerodynamic measures on mitigation of wind pressures on low-rise buildings. After graduating with his master's degree in the fall of 2010, Xinlai joined the Department of Civil and Coastal Engineering at the University of Florida as a Ph.D student under the guidance of Dr. Prevatt. Currently Xinlai's research delves into the application of finite element analysis, numerical simulation of non-Gaussian processes, and estimation of peak distribution of non-Gaussian processes.
In his free time,
Xinlai enjoys frequent excursion to the beach, comedy movies and reading up on history and classical works, and is a hardcore basketball enthusiast.